Learn More About Getting an Oil Change in Detroit at Bob Maxey Ford Inc.
It takes a lot of moving parts to make a vehicle run optimally, and each of those moving parts need to be properly maintained. Fortunately for drivers in the Detroit area, Bob Maxey Ford Inc. provides a range of services that can keep your car healthier longer. One of those services is an oil change, which you can read more about below.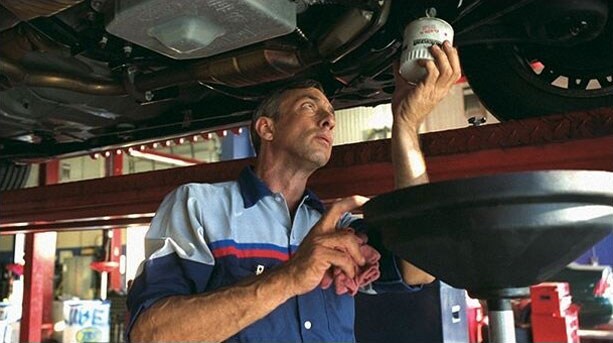 What exactly does an oil change entail?
At Bob Maxey Ford Inc., we'll literally give you The Works™, a multi-point vehicle inspection. Your car will receive a thorough checkup, and a little extra peace of mind.
The Works™ Includes the Following:
Synthetic blend oil change
Tire rotation and pressure check
Brake inspection
Fluid-top off
Battery test
Filter check plus belts
Hoses check
And more

Why do I need to have my oil changed?
Keeping your car in the best possible shape will keep you safer and save you money in the long run. Regular oil and filter changes will maximize your car's fuel efficiency, upping your mpg by up to two percent!* Plus, you'll avoid buildup or damage that could be costly to clean up later on.
When should I have my oil changed?
Ford knows its vehicles inside and out. As such, the manufacturer is the number one expert on the maintenance intervals they require. Those intervals may be longer than you think when it comes to oil changes. With certain models, in fact, you can go 10,000 miles in between.
For vehicles produced in 2008 or later, Ford suggests that you have your oil changed every 7,500 miles or every six months, whichever comes first. For vehicles that are older than that, Ford recommends that you change your oil every 5,000 miles or six months. Remember to keep an eye on you vehicle's Intelligent Oil Life Monitor, located in the instrument cluster message center, as well.
How can I schedule an oil change?
Scheduling The Works is as easy as calling our service number or utilizing our online service scheduler. And don't forget to take advantage of our service coupons; you can save on a variety of Ford service and auto repairs.
*Sources: fueleconomy.gov, epa.gov.